ACLS Renewal Course (can add BLS) 9 am to 1 pm. CLASS FULL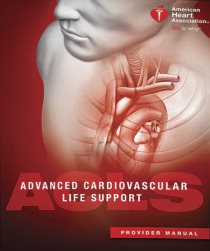 This is a renewal course only
If you are taking ACLS for the first time or your current certification is expired by 60 days please Contact Us
Course Description:
American Heart Association course designed for healthcare professionals who either direct or participate in the management of cardiopulmonary arrest or other cardiovascular emergencies for adults. This course highlights the importance of team dynamics, communication, systems of care, and immediate post-cardiac arrest care. It also covers airway management and related pharmacology.
Additional Required Material:  
The American Heart Association requires that you have an ACLS Provider Manual for the course. If you do not already have the 2020 edition then you will have to purchase one. You have the option to purchase an e-book or a paperback.  Please note: The 2015 edition will not be accepted. We will be happy to email you the AHA vendor site where this can be purchased.
What you are registering for:
You are registering for a FULL in person ACLS renewal course.  If your intention is do to the Blended Learning course option (Part online and Part in Person) then you want to register for a ACLS Skills Session NOT this Full course.
Need BLS renewed????
You have 2 options if you also need to renew your BLS:
Register for the Full in Person BLS course on a different date. (Cost: 60.00 + required book if needed 16.00+tax)
Do the Heartcode Blended Learning Course for BLS. This allows us to combine BLS with your ACLS renewal course so you don't have to come for training on another day.  (Cost: 34.00 for online portion & 25.00 for skills session. This is a 20.00 discount off Heartcode BLS for combining it with your ACLS course) Here's how it works:
Step 1 – You will complete the online portion of BLS prior to your scheduled ACLS class. You can purchase this from us or from the AHA.
Step 2 – We will complete the additional required BLS skills immediately following the ACLS class. This will add 30 minutes of class time.
Payment for Course(s)
By registering here you are asking for a seat in the class. We will not collect payment from you until we have confirmed this is the correct course for you and have completed registration. Price listed for informational purposes only.
Event Location
CPR Done Right
100 Country Club Rd
Argyle, Texas, 76226
Event Fees
ACLS renewal course
$ 175.00
Add BLS online course
$ 34.00
Add BLS Skills session
$ 25.00